20.02.2018 | SPECIAL ISSUE: SHAPE MEMORY AND SUPERELASTIC TECHNOLOGIES CONFERENCE 2017, INVITED PAPER | Ausgabe 1/2018 Open Access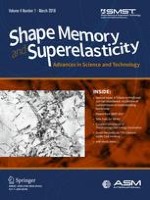 Effects of Tube Processing on the Fatigue Life of Nitinol
Zeitschrift:
Autoren:

Paul Adler, Rudolf Frei, Michael Kimiecik, Paul Briant, Brad James, Chuan Liu
Wichtige Hinweise
This article is an invited paper selected from presentations at the International Conference on Shape Memory and Superelastic Technologies 2017, held May 15–19, 2017, in San Diego, California, and has been expanded from the original presentation.
Abstract
Nitinol tubes were manufactured from Standard Grade VIM-VAR ingots using Tube Manufacturing method "TM-1." Diamond-shaped samples were laser cut, shape set, then fatigued at 37 °C to 10
7
cycles. The 50, 5, and 1% probabilities of fracture were calculated as a function of number of cycles to fracture and compared with probabilities determined for fatigue data published by Robertson et al. (J Mech Behav Biomater 51:119–131,
2015
). Robertson tested similar diamonds made from the same standard grade of Nitinol as in the current study, two other standard grades of Nitinol, and two high-purity grades of Nitinol expressly designed to improve fatigue life. Robertson's tubes were manufactured using Tube Manufacturing method "TM-2." Fatigue performance of TM-1 and TM-2 diamonds were compared: At 10
7
cycles, strain amplitudes corresponding to the three probabilities of fracture of the TM-1 diamonds were 2–3 times those of the TM-2 diamonds made from the same grade of Nitinol, and comparable to TM-2 diamonds made from the higher-purity materials. This difference is likely a result of the differences in tube manufacturing techniques and effects on resulting microstructures. Microstructural analyses of samples revealed a correlation between the median probability of fracture and median inclusion diameter that follows an inverse power-law function of the form
y
 ≈
x
−1
.