13.09.2018 | Ausgabe 4/2018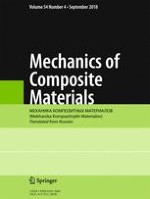 Elastic Field of a Heterogeneous Medium Containing Doubly Periodic Cylindrical Inclusions Under Antiplane Shear and its Application
Zeitschrift:
Autoren:

Y. L. Xu, J. H. Xiao, Y. Z. Shen
Wichtige Hinweise
Russian translation published in Mekhanika Kompozitnykh Materialov, Vol. 54, No. 4, pp. 647-664, July-August, 2018.
The elastic field of a heterogeneous medium containing doubly periodic cylindrical inclusions is investigated in antiplane shear. The heterogeneous medium is replaced by a homogeneous medium with doubly periodic stresses not related to strains. In the regions corresponding to the inclusions of the heterogeneous medium, an equivalence condition between a problem for the heterogeneous medium (called the original problem) and the corresponding problem for the homogeneous medium (called the equivalent problem) is established. Employing displacement continuity and stress jump conditions, the equivalent problem is formulated as a doubly quasi-periodic Riemann boundary-value problem, which is solved analytically, and the elastic fields in the doubly periodic inclusions and matrix are determined. As an example of application, the present solution is used to evaluate the effective antiplane moduli of composites, which are found to be in good agreement with existing results.