2019 | OriginalPaper | Buchkapitel Open Access
6. Engineering Options Analysis (EOA)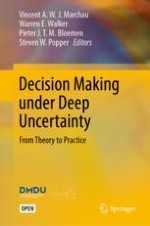 Autoren: Richard de Neufville, Kim Smet
Abstract
This chapter presents and explains Engineering Options Analysis (EOA) in two ways.
First, we present it for what it is: an approach to quantitative analysis for planning, design, and management of engineering systems over time, in the context of uncertainty. We offer a brief introduction to the approach, and then go through each of the broad methodological steps.

Second, we underline important differences between EOA and Real Options Analysis (ROA), and contrast EOA briefly with other methods presented in this book. While the chapter synthesizing the DMDU approaches covers this topic in a general way (Chap.

15

), it is useful for clarity to cover it briefly here. Since EOA and ROA sound so similar, readers might easily assume they are really very close if not identical—but they are not! In a nutshell, ROA assumes that we can estimate future uncertainties sufficiently accurately, is generally limited to analyzing a single option at a time, and aims to develop single monetary values for options. EOA deals with deeper uncertainties, handles multiple options simultaneously, and allows for all sorts of measures of benefits and values.