18.09.2017 | Ausgabe 6/2017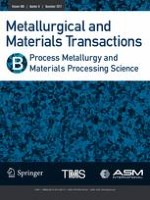 Enhanced Dissolution of Platinum Group Metals Using Electroless Iron Deposition Pretreatment
Zeitschrift:
Autoren:

Yu-ki Taninouchi, Toru H. Okabe
Wichtige Hinweise
Manuscript submitted May 12, 2017.
Abstract
In order to develop a new method for efficiently recovering platinum group metals (PGMs) from catalyst scraps, the authors investigated an efficient dissolution process where the material was pretreated by electroless Fe deposition. When Rh-loaded alumina powder was kept in aqua regia at 313 K (40 °C) for 30 to 60 minutes, the Rh hardly dissolved. Meanwhile, after electroless Fe plating using a bath containing sodium borohydride and potassium sodium tartrate as the reducing and complexing agents, respectively, approximately 60 pct of Rh was extracted by aqua regia at 313 K (40 °C) after 30 minutes. Furthermore, when heat treatment was performed at 1200 K (927 °C) for 60 minutes in vacuum after electroless plating, the extraction of Rh approached 100 pct for the same leaching conditions. The authors also confirmed that the Fe deposition pretreatment enhanced the dissolution of Pt and Pd. These results indicate that an effective and environmentally friendly process for the separation and extraction of PGMs from catalyst scraps can be developed utilizing this Fe deposition pretreatment.