01.10.2016 | Ausgabe 2/2017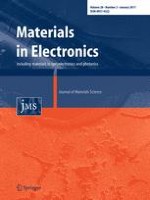 Enhanced photocatalytic activity and photoelectrochemical performance of InOOH nanosheets prepared via a facile solvothermal route
Autoren:

Shuang Yang, Cheng-Yan Xu, Bao-You Zhang, Sheng-Peng Hu, Jing Yu, Liang Zhen
Wichtige Hinweise
Electronic supplementary material
The online version of this article (doi:
10.​1007/​s10854-016-5738-0
) contains supplementary material, which is available to authorized users.
Abstract
Two-dimensional materials, such graphene and transition metal dichalcogenides with layered structures, and other non-layered materials, have found broad applications in optoelectronics, energy storage and photocatalysis, utilizing the unique properties arising from the two-dimensional characteristics. In this work, we report the solvothermal synthesis of uniform InOOH nanosheets with average length of c.a. 1.5 μm, width of c.a. 500 nm, and thickness of c.a. 60 nm. The obtained InOOH nanosheets are characterized by X-ray diffraction, scanning electron microscope and transmission electron microscope. The possible growth mechanism of the InOOH nanosheets was discussed. Photocatalytic and photoelectrochemical experiments indicated that the InOOH nanosheets present enhanced photocatalytic activity for the degradation of Rhodamine B under UV light irradiation, which can be ascribed to its high BET surface area as well as enhanced electron–hole separation originated from the two-dimensional morphological characteristics.