2018 | OriginalPaper | Buchkapitel
23. Farm-Scale Soil Carbon Auditing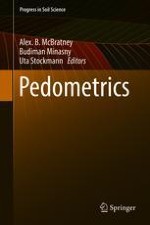 Erstes Kapitel lesen
Autoren: Jaap J. de Gruijter, Alex. B. McBratney, Budiman Minasny, Ichsani Wheeler, Brendan P. Malone, Uta Stockmann
Abstract
The soil system is recognized as a significant terrestrial sink of carbon. Estimates for the top meter of soil in the world range between 1,200 and 2,500 petagrams for organic C (Batjes
1996
; Lal
2004
). The reliable assessment and monitoring of soil carbon stocks is of key importance for soil conservation and in mitigation strategies for increased atmospheric carbon (Stockmann et al.
2013
). Carbon credits are the heart of a cap-and-trade scheme, by offering a way to quantify carbon sequestered from the atmosphere; carbon credits gain a monetary value to offset a given amount of carbon dioxide releases (Paustian et al.
2009
). The agricultural industry worldwide has the capacity to capture and store carbon emissions in soil (Paustian et al.
2000
). However, there is still a debate on how soil can benefit for the offsets in the carbon economy because there is no good and efficient way of measuring soil carbon storage with appropriate statistical confidence (Post et al.
2001
; Smith
2004b
). A scheme that can measure and monitor soil carbon storage on a farm, which is crucial to the participation of the agricultural sector in the carbon economy, is essential.