03.04.2015 | Technical Paper | Ausgabe 12/2015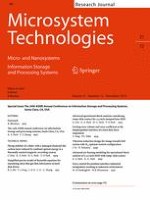 Flying stability of a slider with a damaged diamond like carbon layer induced by confined optical energy in a thermally assisted magnetic recording system
Zeitschrift:
Autoren:

Jonghak Choi, Kyoung-Su Park, No-Cheol Park, Young-Pil Park
Wichtige Hinweise
Paper presented at the Joint International Conference on Information Storage and Processing Systems ISPS2014), Santa Clara, CA, USA, 16–17 June, 2014.
Abstract
Thermally assisted magnetic recording (TAMR) is one possible solution for overcoming the limitation of higher storage density. However, in TAMR systems, several problems arise in association with the heat generated by the laser. This paper investigates the effect of damaged diamond like carbon (DLC) layer induced by confined optical energy in TAMR slider using derived equation of material loss in DLC layer. It is found that because of the confined optical energy in the near field transducer, DLC layer under the bottom of the slider can be damaged. The damaged DLC layer can lead the increment of flying height and decrement of pitch angle. These changes of slider attitude change the air bearing stiffness (ABS) between slider and disk. As the result, the changed ABS has a bad effect on the flying stability of the slider. And in higher energy, the effect is intensified.