10.02.2017 | Ausgabe 4/2017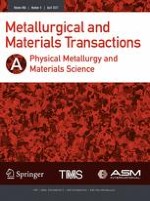 Formation of Widmanstätten Austenite in Strip Cast Grain-Oriented Silicon Steel
Zeitschrift:
Autoren:

Hong-Yu Song, Hai-Tao Liu, Guo-Dong Wang, John J. Jonas
Wichtige Hinweise
Manuscript submitted April 29, 2016.
Abstract
The formation of Widmanstätten austenite was studied in strip cast grain-oriented silicon steel. The microstructure was investigated by optical microscopy and scanning electron microscopy. The orientations of the ferrite, Widmanstätten austenite, and martensite were determined using electron backscatter diffraction. The Widmanstätten austenite exhibits a lath-like shape and nucleates directly on the ferrite grain boundaries. This differs significantly from earlier work on duplex stainless steels. The orientation relationship between the Widmanstätten austenite and the parent ferrite is closer to Kurdjumov–Sachs than to Nishiyama–Wassermann. The ferrite boundaries migrate so as to accommodate the habit planes of the laths, leading to the presence of zigzag boundaries in the as-cast strip. Carbon partitioning into the Widmanstätten austenite and silicon partitioning into the parent ferrite were observed.