Erschienen in: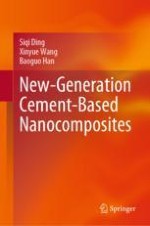 2023 | OriginalPaper | Buchkapitel
1. Fundamentals of New-Generation Cement-Based Nanocomposites
Abstract
Nano science and technology can help understand and control the structures and properties of cement-based composites more fundamentally. Incorporating nanomaterials as fillers is commonly used approach for tailoring the cement-based composites via nano science and technology. The manipulation of nanomaterials on cement-based composites strongly depends on the compositions, structures, processing and properties of nanomaterials as well as the composite methods of nanomaterials with cement-based composites. Recent advances in nano-synthetic technologies, nanocomposite technologies and nano-surface modification technologies are driving the progressive exploitation of advanced nanocomposites. In view of their unique structures and mutual synergy, these advanced nanocomposites are expected to alleviate the dispersion issue of traditional nanomaterials in cement-based composites, improve their nanocomposite effectiveness and efficiency, and impart new properties and functionalities to cement-based composites, thus boosting the development of new-generation cement-based nanocomposites.