01.01.2015 | Ausgabe 1/2015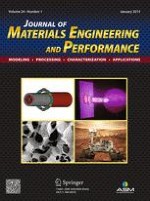 High Temperature Formability Prediction of Dual Phase Brass Using Phenomenological and Physical Constitutive Models
Zeitschrift:
Autoren:

E. Farabi, A. Zarei-Hanzaki, H. R. Abedi
Abstract
Characterizing the high temperature flow behavior of a lead bearing duplex brass in a wide range of forming temperatures (673-1073 K) and strain rates (0.001-0.1 s
−1
) has been conducted in the present work. In order to establish the constitutive equations, two major modeling procedures, phenomenological (the Original Johnson-Cook and the Arrhenius-type) and physically based (the modified Zerilli-Armstrong) models, have been employed. The capability and accuracy of each model has been assessed via standard statistical parameters such as average absolute relative error and correlation coefficient. The comparative and comprehensive study of the flow behavior indicated that the accuracy of the phenomenological models was strongly dependent on the range of the testing temperatures and the corresponding mechanism which operate under the specified deformation conditions. It has been indicated that by limiting the temperature range a more precise
Q
-value is reached, which positively influences the accuracy of the Arrhenius-type model. In contrast, the modified Zerilli-Armstrong model was capable to overcome these limitations and properly considers the physical characteristics including dislocation dynamics and thermal activation to develop the materials constants.