01.08.2013 | Research Article | Ausgabe 8/2013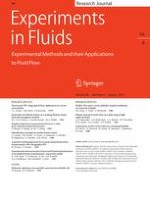 Identification strategies for model-based control
Zeitschrift:
Autoren:

Laurent Cordier, Bernd R. Noack, Gilles Tissot, Guillaume Lehnasch, Joël Delville, Maciej Balajewicz, Guillaume Daviller, Robert K. Niven
Wichtige Hinweise
This article is part of the collection Topics in Flow Control. Guest Editors J. P. Bonnet and L. Cattafesta.
Abstract
A reduced-order modelling (ROM) strategy is crucial to achieve model-based control in a wide class of flow configurations. In turbulence, ROMs are mostly derived by Galerkin projection of first-principles equations onto the proper orthogonal decomposition (POD) modes. These POD ROMs are known to be relatively fragile when used for control design. To understand more deeply this behaviour, a hierarchy of POD ROMs is studied and compared for a two-dimensional uncontrolled mixing layer. First, dynamical models based on POD are derived from the Navier–Stokes and the vorticity equations. It is shown that these models can exhibit for some truncation level finite-time blow-ups. A symmetrized quadratic model is then proposed to enforce the preservation of energy in the model. This formulation improves considerably the behaviour of the model, but the energy level is still overestimated. Subsequently, a nonlinear eddy-viscosity model with guaranteed stability is proposed. This model still leads to an imperfect description of the energy. Different 4D-Var identification strategies are then considered to improve the nonlinear eddy-viscosity model. It is shown that penalizing the time variation in the eddy-viscosity parameter leads to the best compromise in terms of description of the energy and of physical relevance of the eddy viscosity. Lastly, a statistical inference procedure is used to take into account the bias inherent of the sampling employed in the identification procedure. Joined probability density functions are then determined empirically for all the coefficients of the model, and a stochastic dynamical model is finally derived to study the influence on the long-term solution of different equiprobable sets of coefficients.