03.03.2018 | Ausgabe 5/2018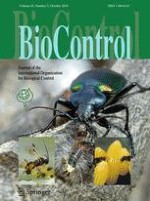 Impact of multiple natural enemies on immature
Drosophila suzukii

in strawberries and blueberries
Zeitschrift:
Autoren:

Justin M. Renkema, Andrew G. S. Cuthbertson
Wichtige Hinweise
Handling Editor: Ralf Ehlers
Abstract
Drosophila suzukii
(Matsumura) (Diptera: Drosophilidae) oviposits in ripening fruit, larvae render crops unmarketable, and significant economic losses can occur. Biological control research has focused on individual natural enemy species against immature
D. suzukii
. Here we combine two predators and an entomopathogenic nematode, expecting species complementarity and increased control of
D. suzukii
. In strawberries,
Orius insidiosus
(Say) (Hemiptera: Anthocoridae) plus
Heterorhabditis bacteriophora
Poinar (Rhabditida: Heterorhabditidae) resulted in fewest
D. suzukii
(81% reduction), and in blueberries, results were similar (60% reduction), although
H. bacteriophora
was not as effective as in strawberries, which was likely due to drier substrate conditions. There was neither strong complementarity nor interference between predators,
O. insidiosus
and
Dalotia coriaria
Kraatz (Coleoptera: Staphylinidae). Inclusion of
O. insidiosus
resulted in 50% fewer
D. suzukii
than combinations without
O. insidiosus
. Control of
D. suzukii
can be improved with multiple natural enemies, and combinations of
O. insidiosus
with other agents (parasitoids, fungal entomopathogens) should be tested.