01.11.2018 | Ausgabe 11/2018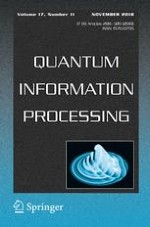 Improving the security of quantum key agreement protocols with single photon in both polarization and spatial-mode degrees of freedom
Zeitschrift:
Autoren:

Hussein Abulkasim, Ahmed Farouk, Hanan Alsuqaih, Walaa Hamdan, Safwat Hamad, S. Ghose
Abstract
Recently, Wang and Ma (Quantum Inf Process 16(5):130,
2017
) proposed two interesting quantum key agreement protocols with a single photon in both polarization and spatial-mode degrees of freedom. They claimed that the privacy of participants' secret keys in the multiparty case is protected against dishonest participants. However, in this paper, we prove that two dishonest participants can deduce the secret key of an honest one using a fake sequence of single photons, without being detected. Also, we propose an additional security detection process to avoid the security loophole in their protocol.