08.10.2015 | Industry Voice | Ausgabe 1/2016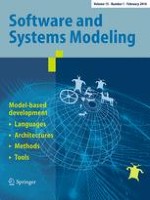 Industry 4.0 as a Cyber-Physical System study
Zeitschrift:
Autoren:

Pieter J. Mosterman, Justyna Zander
Wichtige Hinweise
Communicated by Prof. Dr. Tony Clark, Prof. Dr. Gabor Karsai, and Prof. Dr. Roel Wi.
Abstract
Advances in computation and communication are taking shape in the form of the Internet of Things, Machine-to-Machine technology, Industry 4.0, and Cyber-Physical Systems (CPS). The impact on engineering such systems is a new technical systems paradigm based on ensembles of collaborating embedded software systems. To successfully facilitate this paradigm, multiple needs can be identified along three axes: (i) online configuring an ensemble of systems, (ii) achieving a concerted function of collaborating systems, and (iii) providing the enabling infrastructure. This work focuses on the collaborative function dimension and presents a set of concrete examples of CPS challenges. The examples are illustrated based on a pick and place machine that solves a distributed version of the Towers of Hanoi puzzle. The system includes a physical environment, a wireless network, concurrent computing resources, and computational functionality such as, service arbitration, various forms of control, and processing of streaming video. The pick and place machine is of medium-size complexity. It is representative of issues occurring in industrial systems that are coming online. The entire study is provided at a computational model level, with the intent to contribute to the model-based research agenda in terms of design methods and implementation technologies necessary to make the next generation systems a reality.