01.11.2017 | Ausgabe 6/2017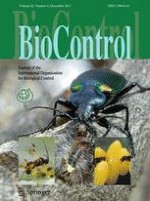 Integrated control of tobacco black shank by combined use of riboflavin and
Bacillus subtilis

strain Tpb55
Zeitschrift:
Autoren:

Chengsheng Zhang, Jiaming Gao, Teng Han, Xueying Tian, Fenglong Wang
Wichtige Hinweise
Handling Editor: Jane Debode.
Abstract
We investigated the effect of riboflavin on the biocontrol activity of
Bacillus subtilis
Tpb55 against
Phytophthora nicotianae
(
Pn
), which causes tobacco black shank. Riboflavin (0.2 mg ml
−1
) significantly improved the biocontrol activity of Tpb55 (2.0 × 10
8
cfu ml
−1
). Riboflavin (0.02–0.5 mg ml
−1
) alone could not significantly inhibit
Pn
growth. However, it enhanced the
B. subtilis
population, both in vitro and in tobacco roots and significantly increased the activity of defense enzymes, peroxidase, catalase, superoxide dismutase, and β-1,3-glucanase, in the roots of
B. subtilis
-treated tobacco seedlings. Our results indicate that riboflavin can stimulate the growth of
B. subtilis
Tpb55 and induce resistance to
Pn
in tobacco plants. These findings should boost the prospects for practical application of
B. subtilis
Tpb55 as a biocontrol agent against black shank of tobacco.