23.05.2017 | Ausgabe 4/2017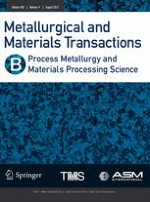 Kinetics of Reduction of CaO-FeO

x

-MgO-PbO-SiO2 Slags by CO-CO2 Gas Mixtures
Zeitschrift:
Autoren:

Sharif Jahanshahi, Steven Wright
Wichtige Hinweise
Manuscript submitted November 22, 2016.
Abstract
Kinetics of the reaction of lead slags (PbO-CaO-SiO
2
-FeO
x
-MgO) with CO-CO
2
gas mixtures was studied by monitoring the changes in the slag composition when a stream of CO-CO
2
gas mixture was blown on the surface of thin layers of slags (3 to 10 mm) at temperatures in the range of 1453 K to 1593 K (1180 °C to 1320 °C). These measurements were carried out under conditions where mass transfer in the gas phase was not the rate-limiting step and the reduction rates were insensitive to factors affecting mass transfer in the slag phase. The results show simultaneous reduction of PbO and Fe
2
O
3
in the slag. The measured specific rate of oxygen removal from the melts varied from about 1 × 10
−6
to 4 × 10
−5
mol O cm
−2
s
−1
and was strongly dependent on the slag chemistry and its oxidation state, partial pressure of CO in the reaction gas mixture, and temperature. The deduced apparent first-order rate constant increased with increasing iron oxide content, oxidation state of the slag, and temperature. The results indicate that under the employed experimental conditions, the rate of formation of CO
2
at the gas-slag interface is likely to be the rate-limiting step.