16.10.2017 | Electronic materials | Ausgabe 3/2018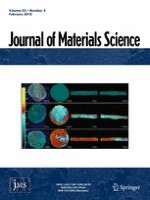 Luminescence and gas-sensing properties of ZnO obtained from the recycling of alkaline batteries
Zeitschrift:
Autoren:

Carlos Sardá, Germán Escalante, Irene García-Díaz, Félix A. López, Paloma Fernández
Wichtige Hinweise
Germán Escalante: On leave from Centro de Investigación en Dispositivos Semiconductores, Univ. Autónoma de Puebla, 72570, Puebla, México
Abstract
The great amount of wasted alkaline batteries produced nowadays constitutes a driving force for obtaining valuable materials from the recycling process. Zn is one of the major components of the batteries residues; hence, the possibility to obtain good quality ZnO appears very attractive. In this work, we have characterized ZnO obtained by different synthesis routes from the black mass produced during the mechanical recycling process. The luminescent behaviour has been studied and compared to that of the commercial ZnO. Chromaticity has been analysed through the corresponding CIE [Commission Internationale d'Eclairage (CIE) 1931] coordinates, obtained from the emission spectra. The possible response to gases from the ZnO obtained from the different sources has been also investigated. While ZnO from recycling does not show an appreciable gas sensitivity, the possibility to follow different calcination routes and hence obtaining ZnO with different defect structures and luminescent behaviour open the way to tailor the colour of the emitted light.