12.11.2020 | Ausgabe 7-8/2020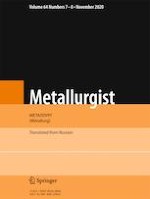 Mechanisms for Forming Iron-Containing Intermetallics Prepared by Aluminothermy and the Effect of Special Treatment Methods on their Properties
Zeitschrift:
Autoren:

O. N. Komarov, S. G. Zhilin, V. V. Predein, A. V. Popov
Wichtige Hinweise
Translated from Metallurg, Vol. 64, No. 8, pp. 65–75, August, 2020.
Scientists around the world are conducting research in the production of new materials and alloys with a good set of physicomechanical properties with the aim of their prospective application in a wide variety of industries. Today, researchers in this field are faced with the problem of improving known and creating new methods for producing heat-resistant, thermally stable, and wear-resistant materials. For example, alloys based on iron aluminides have good anti-corrosion properties and oxidation resistance due to formation of aluminum oxide, as well as low cost. Iron aluminides belong to a class of especially light promising structural materials and are used in mechanical engineering, metallurgy and electrical engineering.
Preparation of Fe–Al aluminides for the production of materials and coatings is currently being accomplished using isostatic pressing and sintering in a vacuum, arc and plasma spraying, electroslag remelting, and self-propagating high-temperature synthesis, which do not fully meet contemporary requirements, since the production processes for preparing these alloys using known methods are multi-stage. Development of simple and productive technology for producing high-quality intermetallic compounds in the Fe–Al system is an urgent scientific and technical task. So far the most feasible approach is one that provides preparation of iron aluminides by combined aluminothermic reduction of the original metal oxides using SHS-metallurgy in one stage.
Mechanical and operating properties of compounds of the Fe–Al system are largely determined by lattice parameters and structural features. All intermetallic compounds of the Fe–Al system exhibit a brittle fracture pattern. In order to adjust the physicomechanical and operating properties various elements, such as chromium, niobium, carbon, molybdenum, tungsten, etc., are added to an alloy composition based on the Fe–Al system. These elements are introduced into the alloy by assembling special charge materials in which the elements are present in pure form or in the form of compounds, including oxides, in various combinations above, up to, and equal to the stoichiometric ratio. The starting components of charge mixtures are cheap low-cost materials, including waste from engineering and metallurgical enterprises.
Studies of the properties of the experimental alloys obtained, in particular chemical composition, phases formed, microstructure, strength, hardness, wear resistance, corrosion and oxidation confirm their suitability for operation in high temperature and corrosive environments. At the same time, it is possible to correct further the properties by treating the resulting alloys with the methods of deformation and heat treatment, as a result of which the latter not only increase in strength and yield strength, but also increase in elongation associated with a change in grain size and shape. Development of new alloys based on iron aluminides, combining a set of the required properties and chemical composition, allows them to be used as independent structural materials, and as modifiers in smelting various alloys. At the same time, it is possible to expand the field of application of alloys based on iron aluminide with wider use in the aerospace industry, where these materials may replace expensive nickel aluminides, titanium alloys, etc.