01.01.2015 | Ausgabe 1/2015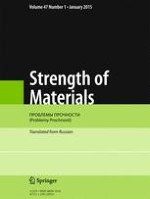 Microstructure and Mechanical Properties of an Underwater Wet Welded Dissimilar Ferritic/Austenitic Steel Joint
Zeitschrift:
Autoren:

N. Guo, Z. Yang, M. Wang, X. Yuan, J. Feng
Wichtige Hinweise
Translated from Problemy Prochnosti, No. 1, pp. 19 – 25, January – February, 2015.
EH40 ship steel was underwater wet-welded by shielded metal-arc welding at a depth of 7 m in the open sea, using austenitic electrodes. The microstructure and mechanical properties of the joint were estimated with microhardness measurements, bending and tensile testing, optical microscopy, scanning electron microscopy, and energy dispersive X-ray spectroscopy. The highest microhardness was recorded on the coarse-grained heat-affected zone of the base metal, which displayed a mixed bainite-martensite microstructure, while the welds possessed a fully columnar dendritic austenitic structure. The specimens exhibited higher ultimate strength and elongation in longitudinal tensile tests than in transverse ones. Moreover, the specimens satisfied face bending tests but failed in root bending ones. Hydrogen-induced microcracks, which were observed in a lath martensite layer at the fusion boundary, became the fracture initiation region both in bending and transverse tensile tests.