02.08.2019 | Original Article | Ausgabe 3/2020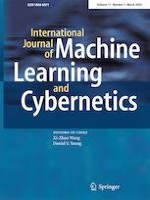 Multi-view local linear KNN classification: theoretical and experimental studies on image classification
Autoren:

Zhibin Jiang, Zekang Bian, Shitong Wang
Wichtige Hinweise
Zhibin Jiang and Zekang Bian have the equal contributions to this study.
Publisher's Note
Springer Nature remains neutral with regard to jurisdictional claims in published maps and institutional affiliations.
Abstract
When handling special multi-view scenarios where data from each view keep the same features, we may perhaps encounter two serious challenges: (1) samples from different views of the same class are less similar than those from the same view but different class, which sometimes happen in local way in both training and/or testing phases; (2) training an explicit prediction model becomes unreliable and even infeasible for test samples in multi-view scenarios. In this study, we prefer the philosophy of the
k
nearest neighbor method (KNN) to circumvent the second challenge. Without an explicit prediction model trained directly from the above multi-view data, a new multi-view local linear
k
nearest neighbor method (MV-LLKNN) is then developed to circumvent the two challenges so as to predict the label of each test sample. MV-LLKNN has its two reliable assumptions. One is the theoretically and experimentally provable assumption that any test sample can be well approximated by a linear combination of its neighbors in the multi-view training dataset. The other assumes that these neighbors should demonstrate their clustering property according to certain commonality-based similarity measure between the multi-view test sample and these multi-view neighbors so as to avoid the first challenge. MV-LLKNN can realize its effective prediction for a test multi-view sample by cheaply using both on-hand fast iterative shrinkage thresholding algorithm (FISTA) and KNN. Our theoretical analysis and experimental results about real multi-view face datasets indicate the effectiveness of MV-LLKNN.