30.09.2016 | Original | Ausgabe 2/2017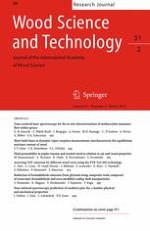 Near-infrared spectroscopy prediction of southern pine No. 2 lumber physical and mechanical properties
Zeitschrift:
Autoren:

Joseph Dahlen, Ignacio Diaz, Laurence Schimleck, P. David Jones
Abstract
This study investigated near-infrared spectroscopy (NIRS) to rapidly estimate physical and mechanical properties of No. 2 2 × 4 southern pine lumber. A total of 718 lumber samples were acquired from six mills across the Southeast and destructively tested in bending. From each piece of lumber, a 25-mm-length block was cut and diffuse reflectance NIR spectra were collected from the transverse face using a FOSS 5000 scanning spectrometer. Calibrations were created using partial least squares (PLS) regression and their performance checked with a prediction set. Overall moderate predictive ability was found between NIRS and the properties for the calibration and prediction sets: block specific gravity (SG) (
R
2
= 0.66 and
R
p
2
= 0.63), lumber SG (0.54 and 0.53), modulus of elasticity (MOE) (0.54 and 0.58), and modulus of rupture (MOR) (0.5 and 0.4). Model performance for MOE (
R
p
2
= 0.70) and MOR (
R
p
2
= 0.50) improved when performing PLS regression on a matrix containing lumber SG and NIR spectra. Overall NIRS predicted MOE better than linear models using lumber SG (
R
2
= 0.46), whereas lumber SG (
R
2
= 0.51) predicted MOR better than NIRS. Overall NIRS has reasonably good predictive ability considering the small volume of wood that is scanned with the instrument.