01.08.2013 | Abhandlung | Ausgabe 3/2013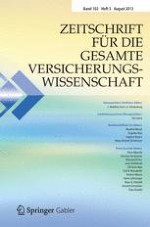 Net value created: measuring a non-life insurer's performance
Autoren:

Matthias Schmautz, Niklas Lampenius
Abstract
The measure Net Value Created (
NVC
) captures periodic deviations of planned for and realized net present values at a specific reporting date. Therefore,
NVC
provides control-related signals about the company's performance additional to economic value added/residual income measures. In this paper we adopt the
NVC
to the Flow to Equity approach, commonly used in non-life insurance company valuation. In a multi-period context the
NVC
allows for an update of information over time regarding planned for and realized values and, it further allows for a separation of value contributions of the main insurer's business units and value contributions due to a change in cost of capital. Thus,
NVC
is useful for value-based performance measurement in the retrospect and for strategic (investment-) decision support in the prospect for non-life insurance companies.