15.02.2019 | Ausgabe 6/2019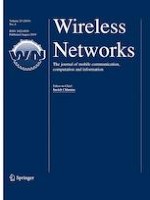 New dual-game-based cooperative bandwidth control scheme for ultra-dense networks
Zeitschrift:
Autor:

Sungwook Kim
Wichtige Hinweise
Publisher's Note
Springer Nature remains neutral with regard to jurisdictional claims in published maps and institutional affiliations.
Abstract
Future 5G cellular networks are being designed to address the explosive traffic growth of mobile users. In emerging new wireless system paradigms, the ultra-dense network (UDN) is considered to be one of the key technologies for potentially achieving the next generation network capacity. For UDN operations, the main challenge is to design efficient bandwidth resource allocation algorithms while considering quality-of-service provisioning. In this paper, we present an intelligent UDN bandwidth control scheme using efficient and innovative methodologies. Based on the basic ideas of cooperative game theory, the proposed scheme can adaptively assign the limited bandwidth resource for each small cell operator. By employing two different game solutions, the proposed approach is designed as a novel dual-game model. First, individual cell operators estimate their bandwidth requirements according to the iterative Nash bargaining solution. Then, limited bandwidth is distributed to each cell operator based on the
τ
-value. To reduce the computation complexity, the proposed algorithms are hierarchically implemented with cascade interactions. Through simulation results, we confirm that system throughput, bandwidth utilization, and load balancing among the cells can be improved with the proposed approach compared to the existing schemes. Finally, we propose further challenges and opportunities in the research area of UDN operations.