17.05.2018 | Research Report | Ausgabe 4/2018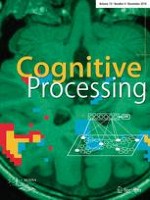 Number line estimation and complex mental calculation: Is there a shared cognitive process driving the two tasks?
Zeitschrift:
Autoren:

Maria Montefinese, Carlo Semenza
Wichtige Hinweise
Handling editor: Luigia Carlucci Aiello (Sapienza University of Rome);
Reviewers: Pom Charras (University Paul Valery Montpellier) and an anonymous reviewer.
Abstract
It is widely accepted that different number-related tasks, including solving simple addition and subtraction, may induce attentional shifts on the so-called mental number line, which represents larger numbers on the right and smaller numbers on the left. Recently, it has been shown that different number-related tasks also employ spatial attention shifts along with general cognitive processes. Here we investigated for the first time whether number line estimation and complex mental arithmetic recruit a common mechanism in healthy adults. Participants' performance in two-digit mental additions and subtractions using visual stimuli was compared with their performance in a mental bisection task using auditory numerical intervals. Results showed significant correlations between participants' performance in number line bisection and that in two-digit mental arithmetic operations, especially in additions, providing a first proof of a shared cognitive mechanism (or multiple shared cognitive mechanisms) between auditory number bisection and complex mental calculation.