01.08.2016 | Research Paper | Ausgabe 8/2016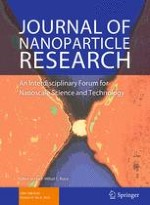 On–off switch-controlled doxorubicin release from thermo- and pH-responsive coated bimagnetic nanocarriers
Zeitschrift:
Autoren:

Mohaned Hammad, Valentin Nica, Rolf Hempelmann
Wichtige Hinweise
Dedicated to the oncologists Nicole Adrian and Michael Pfreundschuh.
Abstract
A switch-controlled drug release system is designed by coating of core/shell bimagnetic nanoparticles with a pH- and thermo-responsive polymer shell, which can be used as hyperthermic agent, drug carrier, and for controlled release. Doxorubicin is loaded onto the surface of the last coating layer, and a high loading efficiency of 90.5 % is obtained. The nanocarriers are characterized by FTIR, dynamic light scattering, Zeta potential, TEM, In vitro hyperthermia, and vibrating sample magnetometry. The core/shell magnetic nanoparticles (Zn0.4Co0.6Fe2O4@Zn0.4Mn0.6Fe2O4) exhibit a superparamagnetic behavior with a saturation magnetization around 45.6 emu/g and a high specific absorption rate of up to 360 W/g. The in vitro drug release experiments confirm that only a small amount of doxorubicin is released at body temperature and physiological pH, whereas a high drug release is obtained at acidic tumor pH under hyperthermia conditions (43 °C). The functionalized core/shell bimagnetic nanocarriers facilitate controllable release of doxorubicin as an effect of induced thermo- and pH-responsiveness of the polymer when are subjected to a high-frequency alternating magnetic field at acidic pH; thereby the drug release rate is controlled using on–off cycles of the applied field.
Graphical Abstract
×