19.08.2019 | Ausgabe 9/2019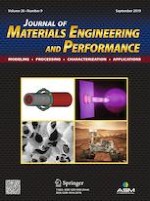 Oxygen-Induced Mechanical Property Variations of Rapidly Solidified Ti-Based Bulk Metallic Composites
Zeitschrift:
Autoren:

R. F. Zhao, L. Y. Li, J. Wang, J. S. Li
Wichtige Hinweise
Publisher's Note
Springer Nature remains neutral with regard to jurisdictional claims in published maps and institutional affiliations.
Abstract
In titanium-based metallic glass composites, a new kind of structural material, the presence of oxygen is an unavoidable problem. Since the amorphous matrix is very sensitive to oxygen, oxygen content must be carefully controlled during the manufacturing process. In this paper, the effects of oxygen on the microstructure and mechanical properties of Ti48Zr20Nb12Cu5Be15 metallic glass composite was studied. The results showed that even low concentrations of oxygen in the metallic glass composite are sufficient to significantly affect the strength, plasticity and working hardening ability without altering the microstructure of the composite on micron scale. Acceptable oxygen content ranges in Ti48Zr20Nb12Cu5Be15 metallic glass composites for practical applications can be determined by balancing the stability of the amorphous matrix and the strength and plasticity of the alloy.