20.08.2018 | Original Paper | Ausgabe 14/2018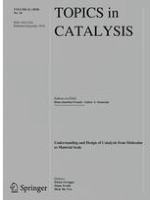 Pd(II)–Ni(II) Pyrazolate Framework as Active and Recyclable Catalyst for the Hydroamination of Terminal Alkynes
Zeitschrift:
Autoren:

Francisco G. Cirujano, Elena López-Maya, J. A. R. Navarro, Dirk E. De Vos
Wichtige Hinweise
Electronic supplementary material
Abstract
Well-dispersed [Pd(NH3)4]2+ sites have been introduced in the defective nickel pyrazolate porous framework, known as K@NiBDP. The resulting porous crystalline material shows a superior catalytic behavior for C–N bond formations than [Pd(NH3)4]2+ containing zeolite HY. The palladium exchanged catalyst, Pd@NiBDP, is able to promote both intra- and intermolecular hydroamination of terminal alkynes with excellent activity, reusability and selectivity towards the corresponding indole or imine versus the hydration of the alkyne. The same Pd species introduced in the microporous acid HY zeolite favors the hydration of the terminal alkyne towards the corresponding ketone, instead of the addition of the amine to the triple bond.
Graphical Abstract
×