01.06.2015 | Ausgabe 3/2015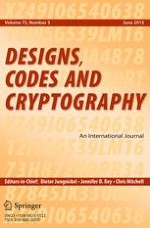 Permutation codes invariant under isometries
Zeitschrift:
Autoren:

Ingo Janiszczak, Wolfgang Lempken, Patric R. J. Östergård, Reiner Staszewski
Wichtige Hinweise
Communicated by K. Metsch.
Abstract
The symmetric group
\(S_n\)
on
\(n\)
letters is a metric space with respect to the Hamming distance. The corresponding isometry group is well known to be isomorphic to the wreath product
\(S_n \wr S_2\)
. A subset of
\(S_n\)
is called a permutation code or a permutation array, and the largest possible size of a permutation code with minimum Hamming distance
\(d\)
is denoted by
\(M(n, d)\)
. Using exhaustive search by computer on sets of orbits of isometry subgroups
\(U\)
we are able to determine serveral new lower bounds for
\(M(n,d)\)
for
\(n \le 22\)
. The codes are given by the group
\(U\)
and representatives of the
\(U\)
-orbits.