01.10.2011 | SPECIAL FEATURE: ORIGINAL ARTICLE | Ausgabe 3/2011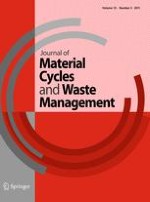 Persistent organic pollutant emissions from medical waste incinerators in China
Zeitschrift:
Autoren:

Mi Yan, Xiao Dong Li, Sheng Yong Lu, Tong Chen, Yong Chi, Jian Hua Yan
Abstract
The huge amount of medical waste (MW) has caused a tough challenge to environmental protection in China because of its serious infectious potential. At present, incineration is the most common technology for MW disposal. Unfortunately, the medical waste incinerator (MWI) is considered one of the major sources of polychlorinated dibenzo-
p
-dioxins and dibenzofurans (PCDD/Fs). This study was conducted to investigate the generation and the components of MW; the fingerprint of PCDD/Fs in MWI; and PCDD/F, polychlorinated biphenyl (PCB) and hexachlorobenzene concentrations in residue ash. The estimated annual production of MW was estimated to be 0.97 million tons in China in 2008; in addition, plastic and rubber accounted for 24.5% of MW contents. PCDD/F emissions from MWI could be divided into two main groups according their fingerprints, and the ratio of PCDFs/PCDDs was mostly over 1.5, with a mean value of 3.43. The toxic equivalent of PCDD/Fs was over 30 times that of the value of PCBs in the residue ash, and PCDD/F contents in fly ash accounted for approximately 67% of the total output of PCDD/Fs, which was in line with the UNEP default emission factors for MWI (class 3, 63.7%).