01.02.2011 | Research Article | Ausgabe 2/2011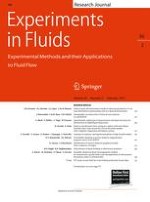 PIV study of near-field tip vortex behind perforated Gurney flaps
Zeitschrift:
Autor:

T. Lee
Abstract
The impact of Gurney flaps, of different heights and perforations, on the growth and development of a tip vortex, both along the tip and in the near field of a finite NACA 0012 wing, at
Re
= 1.05 × 10
5
was investigated by using particle image velocimetry (PIV). Wind-tunnel force balance measurements were also made to supplement the PIV results. This study is a continuation of the work of Lee and Ko (Exp Fluids 46(6):1005–1019,
2009
) on the near-wake measurements behind perforated Gurney flaps. The present results show that along the tip, the overall behavior of the secondary vortices and their interaction with the primary, or tip, vortex remained basically unchanged, regardless of flap height and perforation. The peak vorticity of the tip vortex, however, increased with flap height and always exhibited a local maximum at
x
/
c
= 0.8 (from the leading edge). In the near field, the strength and structure of the near-field tip vortex were found to vary greatly with the flap height and perforation. The small flaps produced a more concentrated tip vortex with an increased circulation, while the large Gurney flaps caused a disruption of the tip vortex. The disrupted vortex can, however, be re-established by the addition of flap perforation. The larger the flap perforation the more organized the tip vortex. The Gurney flaps have the potential to serve as an alternative off-design wake vortex control device.