21.04.2015 | Ausgabe 3/2016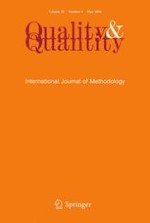 Quality, quantity and financial sustainability of microfinance: Does resource allocation matter?
Zeitschrift:
Autoren:

Md Aslam Mia, Shamima Nasrin, Zhang Cheng
Abstract
Resource allocation is significant for a firm or business to attain its objective(s). In the case of informal lending institutions like microfinance, allocation of resources to attain financial sustainability and providing financial services to the poor community is an interesting area for exploration. Thus, this study endeavors to establish a relationship between microfinance resources (labor and capital) with its quality (depth), quantity (breadth) and financial sustainability. We used the system-generalized methods of moment with a panel dataset of 176 microfinance institutions (MFIs) between 2007 and 2012 in Bangladesh. The study finds that higher capital asset ratio (as a proxy of real capital investment) and number of employees had negative and positive impacts on quality, quantity and financial sustainability of microfinance institutions respectively. Furthermore, we have also estimated that higher capital asset ratio increases administrative cost of MFIs. These findings produce strong policy guidelines for the microfinance sector in Bangladesh, particularly for management of the MFIs. Individual MFIs should take precautionary measures before they shift their resources, mostly to capital goods instead of using labor in their operation.