25.07.2018 | Ausgabe 10/2018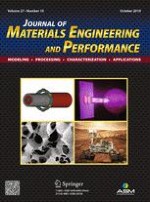 Raman Strain Sensing and Interfacial Stress Transfer of Hierarchical CNT-Coated Carbon Fibers
Zeitschrift:
Autoren:

K. Tsirka, G. Karalis, A. S. Paipetis
Wichtige Hinweise
This article is an invited submission to JMEP selected from presentations at the Symposium "Interface Design and Modelling, Wetting and High-Temperature Capillarity," belonging to the topic "Processing" at the European Congress and Exhibition on Advanced Materials and Processes (EUROMAT 2017), held September 17-22, 2017, in Thessaloniki, Greece, and has been expanded from the original presentation.
Abstract
Hierarchical reinforcements of carbon fibers (CFs) coated with carbon nanotubes (CNTs) were produced via two different methodologies, namely chemical vapor deposition (CVD) and wet chemical treatment. These advanced smart structural materials are possible candidates for inherent strain sensing and improved interfacial properties when incorporated in the volume of structural fiber-reinforced polymer composites. The morphology and wetting properties of the hierarchical CFs were evaluated via SEM and contact angle measurements. Enhanced values in the strain-induced Raman sensing ability of the hierarchical reinforcement produced via CVD in comparison with the uncoated fibers were measured at single fiber level. The residual stress transfer profiles of both the hierarchical and the uncoated carbon fibers were also evaluated using the Raman spectroscopy in order to evaluate the phase interaction in the hierarchical structure. Compressive residual stresses in the order of 1.5 GPa were found to act on the CF surfaces, while tensile residual stresses were measured for both the CNT-coated systems. The effects of the preparation process of the CNT coatings on the residual stress profiles were also prominent, with the CVD-grown coatings resulting in higher tensile residual stresses, 1.76 GPa instead of 1.22 GPa for the coatings produced via wet chemical treatment. The change in the residual stress profiles established the interaction between the CFs and the CNTs via an anchoring mechanism which significantly altered the stress field at the vicinity of the interface.