01.06.2015 | Brief Communication | Ausgabe 6/2015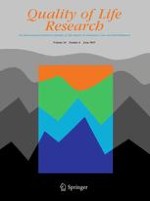 Reexamining epilepsy-associated stigma: validation of the Stigma Scale of Epilepsy in Zambia
Zeitschrift:
Autoren:

Melissa A. Elafros, Ryan P. Bowles, Masharip Atadzhanov, Edward Mbewe, Alan Haworth, Elwyn Chomba, Gretchen L. Birbeck
Abstract
Purpose
Epilepsy-associated stigma is an important patient-centered outcome, yet quantification remains challenging. Jacoby's 3-item Stigma Scale is commonly used to assess felt stigma among people with epilepsy (PWE) yet has ceiling effects. The Stigma Scale of Epilepsy (SSE) is a 24-item instrument that measures felt stigma among PWE and stigmatizing attitudes among others. If cross-culturally valid, the SSE may elucidate stigma determinants and provide an outcome measure for interventions.
Methods
We assessed the properties of the SSE in 102 Zambian PWE using exploratory and confirmatory item response theories and compared the latent traits assessed by the SSE to those assessed by Jacoby's Stigma Scale. Differential item functioning based on forced disclosure of epilepsy was examined.
Results
The SSE yielded two latent traits—the first reflected difficulties faced by PWE; the second reflected emotions associated with epilepsy. Jacoby's Stigma Scale was associated only with the first latent trait. Forced disclosure was associated with "worry" and "pity" that were associated with the second latent trait.
Conclusions
In Zambian PWE, the SSE captured two latent traits. One trait represents feelings associated with epilepsy, which is theorized as a substantial yet unmeasured part of stigma. The SSE performs well across cultures and may more comprehensively assess felt stigma than other instruments. Further validation is required to determine whether the SSE adequately assesses stigmatizing attitudes among people without epilepsy.