26.07.2016 | Original Paper | Ausgabe 11/2016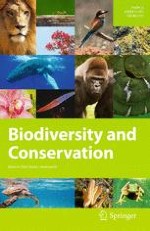 Repeat photography confirms alarming decline in South African cycads
Zeitschrift:
Autoren:

Desale Y. Okubamichael, Sam Jack, J. De Wet Bösenberg, M. Timm Hoffman, John S. Donaldson
Wichtige Hinweise
Communicated by Daniel Sanchez Mata.
Abstract
Although South African cycads are known to be declining in the wild, there is at present no broad-scale, quantitative analysis to support this view. In this study the fate of 626 individual cycads was assessed from 107 repeat photographs taken at 53 locations over three time-steps (broadly 1940s, mid-1990s and 2014). Of the cycads photographed in the 1940s, 78 % survived to the mid-1990s. By 2014, however, only 16 % of the original cycads remained. The Limpopo Province had the highest rate of cycad loss over the recorded period, followed by the Eastern Cape and KwaZulu-Natal. Gauteng and Mpumalanga had the lowest rate of cycad loss. In general, cycad losses were greatest on land under private ownership when compared to communal land and conservation areas. However, cycad loss as a result of damage sustained due to traditional medicine collection was highest on communal lands. Continued declines in most of the studied cycad populations are a concern due to the potential Allee effects this may introduce. While legislation to protect cycads is in place, enforcement is difficult given the spatially extensive and often remote and patchy distribution of cycad populations. Conservation approaches that work actively with farmers to protect cycads on their property, as well as education about sustainable traditional medicine collection practices in communal areas have the best chance of ensuring the viability of wild cycad populations.