01.12.2014 | Original Research | Ausgabe 4/2014 Open Access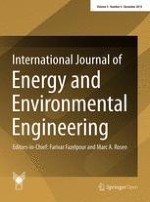 Screening and optimization of parameters affecting fungal pretreatment of oil palm empty fruit bunch (EFB) by experimental design
Autoren:

Agarat Kamcharoen, Verawat Champreda, Lily Eurwilaichitr, Piyarat Boonsawang
Abstract
In the present study, various white-rot fungi were used for the pretreatment of oil palm empty fruit bunch (EFB) using solid-state cultivation. The results showed that
Trametes versicolor
TISTR 3224 gave the highest selectivity value (the ratio of lignin degradation to cellulose degradation) of 1.57. In comparison,
Trametes
sp. BCC 8729,
Phanerochaete chrysosporium
ATCC 24725,
Marasmius
sp. BCC 9542 and
Xylaria
sp. BCC 7749 gave selectivity of 0.60, 0.59, 0.30 and 0.06, respectively. Screening parameters for the fungal pretreatment of EFB using
T. versicolor
TISTR 3224 was studied by Plackett–Burman design (PBD). It indicated that the moisture content and co-substrate gave a positive effect on the lignin degradation, while EFB concentration had a negative effect on cellulose degradation. The optimum conditions for lignin degradation obtained from Box–Behnken statistical experimental design (BBD) were 80 % moisture content, 2.29 % wheat flour and 23.3 % EFB. Under this condition, 15.6 % of delignification was obtained. After an enzymatic hydrolysis, the digestibility of fungal treated EFB under the optimum condition achieved 1.34-fold compared with untreated EFB.