20.05.2017 | Original Article | Ausgabe 3/2018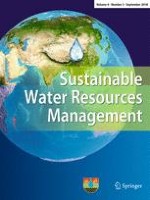 Short-term variations in surface water properties in the Sundarban Estuarine System, India
Zeitschrift:
Autoren:

Tanmoy Nandy, Sumit Mandal, Soumya Deb, Moumita Ghosh, Tirthankar Nath, Meenakshi Chatterjee
Abstract
High resolution measurements were carried out to understand the short-term (<1 h) variability of surface water quality parameters in mangrove-dominated Sundarban Estuarine System of West Bengal, India during flood phases of spring-neap tidal cycle in a peak monsoon season August 2014. We observed that tidal propagation of both phases strongly influenced the water quality properties. During spring tide salinity, DO, pH, nitrate, phosphate, silicate, chlorophyll
a
and phaeopigments concentration exhibited increasing trends; whereas at neap tide nitrate, ammonia and chlorophyll
a
showed decreasing trends. Average nutrient concentrations were much higher during neap tide than spring tide. All the measured water quality parameters varied in every 15-min interval influenced by the tidal current, mangrove litter fall, re-suspension of bottom sediment and river runoff. The effect of tidal amplitude was observed to be the important factor in determining the variability in most of the water quality parameters.