2013 | OriginalPaper | Buchkapitel
20. Simplified Ecological Planning Method for Sustainable Landscape Management by
Humantope Index

: Patterns of Land-Use Continuity, Historical Land Use and Landownership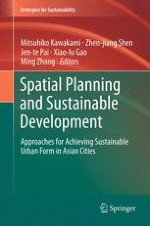 Erstes Kapitel lesen
Autor: Misato Uehara
Verlag: Springer Netherlands
Abstract
The adaptability of the McHarg planning method seems high. However, separated multiple ecological factors must be evaluated for every land-use proposal. The
LPPV
method needs only two factors (layers): potential natural vegetation and land form. Nevertheless, the artificial environment such as a city area cannot be evaluated using the vegetation division pattern. An actual adaptation of these two methods is limited for reasons above. Also, these divisions by physical and biological index require agreements at many landowners and local administrations. Hence, the purpose of this chapter is to propose a shortened planning process that incorporates the advantages of McHarg and
LPPV
methods using a smaller number of indices in a society's environmental division for environmental management guidelines. We set up the hypothesis that there is the possibility that past land-use patterns could be treated as a result of land evaluation of people. We focused on three important human-induced land patterns to develop the
Humantope index
: (1) continuity and stability of land use, (2) traditional land-use-adapted local environment and (3) landownership as spatial management result. Hence, our
Humantope index
is a highly informative synthesis and corresponding to natural environment and artificial environment. Moreover,
Humantope index
would be a simplified procedures compared to those of complex one like the rank evaluation of McHarg and potential vegetation estimates of
LPPV
. It is convenient to link concerns of landowners and local administrations because the
Humantope
division could be easily acceptable for landowners and local administration unit.