2016 | OriginalPaper | Buchkapitel
10. So How Does Someone Become a Redemptive Manager?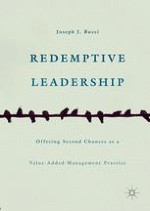 Erstes Kapitel lesen
Autor: DBA Joseph J. Bucci
Abstract
This chapter summarizes all of the results of the six findings while also providing recommendations for managers who are interested in acting redemptively on behalf of their workers. There is an inspirational quality to these successful redemption stories. But it takes managers with empathy and courage to do this in the lives of those seemingly troubled and irresponsible employees who work for them. Managers and organizations must realize that all people are fallible and not perfect; all employees need training and nurturing and sometimes directive actions by the manager in order to be successful. This chapter contains a series of ideas for integrating a redemptive approach to management based on each of the individual findings from the research.