2006 | OriginalPaper | Buchkapitel
25. Statistical Models in Software Reliability and Operations Research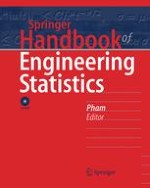 Erstes Kapitel lesen
Autoren: P. Kapur, Amit Bardhan
Verlag: Springer London
Abstract
Statistical models play an important role in monitoring and control of the testing phase of software development life cycle (SDLC). The first section of this chapter provides an introduction to software reliability growth modeling and management problems where optimal control is desired. It includes a brief literature survey and description of optimization problems and solution methods.
In the second section a framework has been proposed for developing general software reliability models for both testing and operational phases. Within the framework, pertinent factors such as testing effort, coverage, user growth etc. can be incorporated. A brief description of the usage models have been provided in the section. It is shown how a new product sales growth model from marketing can be used for reliability growth modeling. Proposed models have been validated on software failure data sets.
To produce reliable software, efficient management of the testing phase is essential. Three management problems viz. release time, testing effort control and resource allocation are discussed in Sects.
25.2
to
25.4
. The operations research approach, i.e. with the help of the models, optimal management decisions can be made regarding the duration of the testing phase, requirement and allocation of resources, intensity of testing effort etc. These optimization problems can be of interest to both theoreticians and software test managers. This chapter discusses both of these aspects viz. model development and optimization problems.