01.04.2013 | Ausgabe 2/2013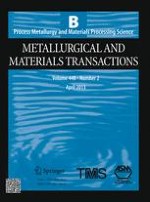 Structurally Based Assessment of the Influence of Fluorides on the Characteristics of Continuous Casting Powder Slags
Zeitschrift:
Autoren:

Tilo Schulz, Bernd Lychatz, Nicole Haustein, Dieter Janke
Wichtige Hinweise
This Paper is dedicated to Prof. Dr.-Ing. Dr. H.C. D. Janke who passed away during the preparation of this article. The authors express their grateful thanks to the former Head of the Institute of Iron and Steel Technology for many discussions about the structure and properties of slags.
Manuscript submitted October 28, 2012.
Abstract
The use of fluorides in continuous casting powder leads to the desired reduction of melting temperature to less than 1573 K (1300 °C) as well as to lowering the viscosity below 10 dPas. With an equilateral use of alkalis, the tendency to form volatile fluorine compounds rises. The effect of these components on the structure of the casting slags can be described with the NBO/T-ratio. Should the full effect of fluorides to be used for structural modification of the slags, the other components have to be inhibited by compound formation so as to prevent them from forming gaseous fluoride. If the fluoride content in the continuous casting slag is represented by means of fluorspar, the influence on the NBO/T-ratio can be described with the impact factor 4.0.