13.02.2019 | Ausgabe 3/2019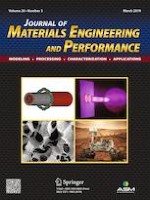 Structure and Tribological Properties of CrTiAlCN Coatings with Various Carbon Contents
Zeitschrift:
Autoren:

Maoda Zhang, Fei Zhou, Haotian Fang, Zhiwei Wu, Qianzhi Wang, Jizhou Kong
Wichtige Hinweise
Publisher's Note
Springer Nature remains neutral with regard to jurisdictional claims in published maps and institutional affiliations.
Abstract
Multi-component CrTiAlCN coatings with different carbon contents were deposited on AISI M2 high-speed steels using unbalanced magnetron sputtering via adjusting the C2H2 flow rates, and their microstructures and mechanical properties were characterized by using SEM, EDS, XRD, Vickers hardness tester and scratch tester, respectively. The tribological properties of CrTiAlCN coatings sliding against SUS440C high carbon martensitic balls were performed using ball-on-disk tribo-tester. The results showed that CrTiAlCN coatings were mainly comprised of (111) and (200) crystal orientation. The maximum hardness of coatings was 29.4 ± 1.5 GPa as the carbon content was 22.5 at.%. With an increase in the carbon content of coatings, the friction coefficients and wear rates of CrTiAlCN/SUS440C tribo-pairs were significantly reduced, and the wear mechanism of coatings changed from adhesive wear to abrasive wear.