02.07.2018 | Chemical routes to materials | Ausgabe 19/2018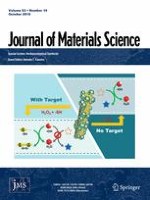 Synergistically enhanced peroxidase-like activity of Pd nanoparticles dispersed on CeO2 nanotubes and their application in colorimetric sensing of sulfhydryl compounds
Zeitschrift:
Autoren:

Xin Li, Zhilong Pu, Hao Zhou, Wenchi Zhang, Xiangheng Niu, Yanfang He, Xuechao Xu, Fengxian Qiu, Jianming Pan, Liang Ni
Wichtige Hinweise
Electronic supplementary material
Abstract
In this work, we proposed a new hybrid of Pd nanoparticles dispersed on CeO2 nanotubes (Pd NPs/CeO2 NTs) with synergistically enhanced peroxidase-like activity for the visual detection of sulfhydryl compounds. In comparison with individual Pd NPs and CeO2 NTs, the Pd NPs/CeO2 NTs hybrid exhibited a synergy effect to trigger the oxidation of colorless 3,3′,5,5′-tetramethylbenzidine (TMB) to its blue product TMBox mediated by H2O2. It was further demonstrated that the improved activity observed in Pd NPs/CeO2 NTs originated from the strong interplays between Pd NPs and CeO2 NTs, which could significantly increase the Ce3+/Ce4+ ratio. Besides, sulfhydryl compounds were found to have the capacity to suppress the color reaction of TMB + H2O2 catalyzed by the Pd NPs/CeO2 NTs nanozyme at a low level. Based on this principle, mercaptoacetic acid in the concentration range of 66–400 nM could be linearly determined. Similarly, sulfhydryl-containing amino acid (cysteine) and its derivative (glutathione) in the linear scope of 6–40 nM were also detected, providing a detection limit down to 2.9 and 11.3 nM, respectively.