01.12.2009 | Original Paper | Ausgabe 6/2009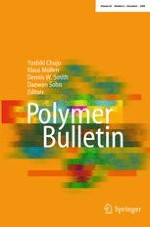 Synthesis and properties of amino acid-derived optically active photo-responsive polymers
Zeitschrift:
Autoren:

Hiromitsu Sogawa, Kayo Terada, Toshio Masuda, Fumio Sanda
Abstract
Optically active azobenzenedicarboxylic acids were synthesized from
l
-alanine, and the polycondensation of the diacids with
o
-,
m
-,
p
-xylylenediols, 5-norbornene-2,3-
endo,endo
- and
exo,exo
-dimethanols,
m
-,
p
-xylylenediamines, and
trans
-1,4-cyclohexanediamine was carried in
N
,
N
-dimethylformamide. Polymers with weight-average molecular weights of 3,300–33,700 were obtained in 63%-quantitative yields. All the polymers reversibly isomerized the azobenzene units from
trans
to
cis
and vice versa upon UV- and visible-light irradiations. The polymers exhibited no evidence for the formation of a chiral secondary structure.