14.09.2018 | Original Contribution | Ausgabe 11/2018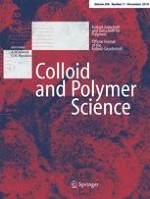 Synthesis of nanoporous organic/inorganic hybrid materials with adjustable pore size
Zeitschrift:
Autoren:

Y. Qawasmi, P. Atanasova, T. Jahnke, Z. Burghard, A. Müller, L. Grassberger, R. Strey, J. Bill, T. Sottmann
Abstract
Polystyrene (PS) nanofoams, prepared following the
nanofoams continuity inversion of dispersions
(NF-CID) principle, were utilized for the synthesis of nanoporous organic/inorganic hybrid materials. The pore size and morphology of the PS foams were found to depend on the NF-CID parameters: temperature, exposure time, and the expansion process. With this knowledge, PS foams with a pore size of 1 μm were mineralized with ZnO from a methanol precursor solution comprising zinc acetate dihydrate. Scanning electron microscopy (SEM) coupled with energy-dispersive X-ray (EDX) was used to characterize both the pure PS nanofoam and the hybrid material. The formation of a ZnO layer on the pore walls of the polymer foams was confirmed, while the general structure of the foam was retained. Uniaxial compression measurements revealed larger values of the
E
modulus and the yield stress for the porous PS/ZnO hybrid material compared to the pure polymer foam.
×