01.04.2015 | Original Paper | Ausgabe 2/2015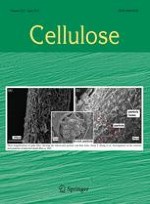 The effect of carboxylated nanocrystalline cellulose on the mechanical, thermal and barrier properties of cysteine cross-linked gliadin nanocomposite
Zeitschrift:
Autoren:

Fatemeh Rafieian, John Simonsen
Abstract
Nanocrystalline cellulose (NCC), prepared by acidic hydrolysis of microcrystalline cellulose (MCC), was oxidized with the TEMPO–NaBr–NaOCl system and subjected to ultrasonic treatment. Carboxylated NCC (C.NCC) having high carboxylate content (%) was thereby produced directly. Modified NCC was then incorporated into gliadin matrices and the effect of their loading content (1, 2.5, 5, 7.5 and 10 wt%) on microstructural, mechanical, thermal and barrier properties of the ensuing nanocomposites were characterized. C.NCC resulted in improved tensile strength (σ
m
) and storage modulus (E′) that can be ascribed to the strong interactions between the filler and the gliadin matrix. The graphs obtained from differential scanning calorimetry (DSC) indicated an optimum in glass transition temperature (
T
g
) at 5 % C.NCC content but thermogravimetric analysis (TGA) curves revealed that C.NCC did not significantly affect the thermal stability of the nanocomposites. Water sorption (WS) decreased with increasing C.NCC content as expected. Furthermore, upon increasing the filler concentration to 10 wt%, the water vapor permeability (WVP) decreased and reached a minimum value at 7.5 wt% loading.