28.01.2016 | Ausgabe 2/2016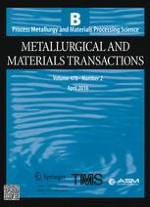 The Effect of Refining Slag and Refractory on Inclusion Transformation in Extra Low Oxygen Steels
Zeitschrift:
Autoren:

Chunyang Liu, Fuxiang Huang, Xinhua Wang
Wichtige Hinweise
Manuscript submitted November 16, 2015.
Abstract
MgO-based refractory and MgO bearing slag both have the potential to supply Mg or Ca to the molten steel and then prompt the inclusion transformation. In this paper, the effect of MgO-based refractory and MgO bearing slag on the spinel generation was investigated on laboratorial scale. The results indicated that refractory had a great contribution to MgO·Al2O3 spinel generation. Although refining slag was faster than MgO-C refractory and than MgO refractory in terms of Mg supply velocity, if the interaction area with the molten steel was taken into calculation, MgO-C and MgO refractory supplied more Mg into molten steel than refining slag during the same time. In addition, refining slag can not only supply Mg into the molten steel to form MgO in inclusions but also supply Ca to generate CaO bearing inclusions. The Al2O3 inclusions transformed through the Al2O3 → MgO·Al2O3 → CaO·MgO·Al2O3 routine and the reason why the Al2O3 inclusions degraded into MgO·Al2O3 rather than CaO·Al2O3 inclusions firstly was clarified. CaO and MgO in the slag can be both reduced at the slag–metal interface and then supply [Ca] and [Mg] into the steel melt. [Ca] activity was dramatically suppressed by the dissolved oxygen in the steel melt and the Ca activity coefficient was near zero, however, the Mg activity coefficient was almost 1, and therefore, MgO·Al2O3 spinel generated firstly. When the dissolved oxygen decreased and the Ca activity increased, [Ca] reacted with existed inclusions spinel and generated CaO·MgO·Al2O3 inclusions.