01.09.2013 | Symposium: Recent Developments in the Processing, Characterization, Properties, Performance, and Applications of Metal Matrix Composites | Ausgabe 9/2013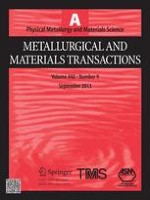 The Effect of Ti on Mechanical Properties of Extruded
In-Situ

Al-15 pct Mg2Si Composite
Zeitschrift:
Autoren:

Niloofar Soltani, Amin Bahrami, Martin Ignacio Pech-Canul
Wichtige Hinweise
Manuscript submitted November 22, 2012.
Abstract
This work was carried out to investigate the effect of different Ti concentrations as a modifying agent on the microstructure and tensile properties of an
in-situ
Al-15 pctMg
2
Si composite. Cast, modified, and homogenized small ingots were extruded at 753 K (480 °C) at the extrusion ratio of 18:1 and ram speed of 1 mm/s. Various techniques including metallography, tensile testing, and scanning electron microscopy were used to characterize the mechanical behavior, microstructural observations, and fracture mechanisms of this composite. The results showed that 0.5 pctTi addition and homogenizing treatment were highly effective in modifying Mg
2
Si particles. The results also exhibited that the addition of Ti up to 0.5 pct increases both ultimate tensile strength (UTS) and tensile elongation values. The highest UTS and elongation values were found to be 245 MPa and 9.5 pct for homogenized and extruded Al-15 pctMg
2
Si-0.5 pctTi composite, respectively. Fracture surface examinations revealed a transition from brittle fracture mode in the as-cast composite to ductile fracture in homogenized and extruded specimens. This can be attributed to the changes in size and morphology of Mg
2
Si intermetallic and porosity content.