01.01.2015 | Ausgabe 1/2015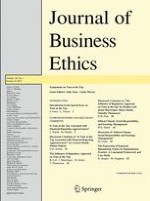 The Expression of Espoused Humanizing Values in Organizational Practice: A Conceptual Framework and Case Study
Zeitschrift:
Autoren:

Brian Shapiro, Michael Naughton
Wichtige Hinweise
The conventional way of business practice is wrong. People are relating to each other in ways that are not healthy,… not serving the common good. In the long run, not even serving economic interests at all…. I think we can benefit as a society and as individuals just if we have the courage to try things. If we only try them because we can see somebody else is making money with it that's not going to get us in the right place.
(Bob Wahlstedt, board member and retired founding executive of Reell Precision Manufacturing, Inc., August 16, 2012 interview with authors).
Abstract
We provide a conceptual framework and a case study of how an organization links its mission and espoused values with its operating practices. Conceptually, we locate this mission integration theme within Simons' (
1995
, Levers of control. Harvard Business Review Press, Boston) management accounting and control framework, and then adapt Schatzki's (
2002
, The site of the social. Pennsylvania State University Press, University Park) site ontology of social practice to develop general research expectations for case studies of espoused values/practice linkages. Empirically, we apply the conceptual framework to a case study of linkages among an actual company's espoused values, human resource practices, and financial management during its 40-plus year history. The concluding section summarizes the study and discusses its implications, limitations, and opportunities for future research.