01.01.2015 | Ausgabe 1/2015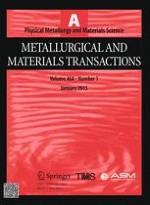 The Influence of the Effect of Solute on the Thermodynamic Driving Force on Grain Refinement of Al Alloys
Zeitschrift:
Autoren:

Feng Wang, Zhi-Lin Liu, Dong Qiu, John A. Taylor, Mark A. Easton, Ming-Xing Zhang
Wichtige Hinweise
Manuscript submitted December 1, 2013.
Abstract
Grain refinement is known to be strongly affected by the solute in cast alloys. Addition of some solute can reduce grain size considerably while others have a limited effect. This is usually attributed to the constitutional supercooling which is quantified by the growth restriction factor,
Q
. However, one factor that has not been considered is whether different solutes have differing effects on the thermodynamic driving force for solidification. This paper reveals that addition of solute reduces the driving force for solidification for a given undercooling, and that for a particular
Q
value, it is reduced more substantially when adding eutectic-forming solutes than peritectic-forming elements. Therefore, compared with the eutectic-forming solutes, addition of peritectic-forming solutes into Al alloys not only possesses a higher initial nucleation rate resulted from the larger thermodynamic driving force for solidification, but also promotes nucleation within the constitutionally supercooled zone during growth. As subsequent nucleation can occur at smaller constitutional supercoolings for peritectic-forming elements, a smaller grain size is thus produced. The very small constitutional supercooling required to trigger subsequent nucleation in alloys containing Ti is considered as a major contributor to its extraordinary grain refining efficiency in cast Al alloys even without the deliberate addition of inoculants.