2017 | OriginalPaper | Buchkapitel
14. The Murine Rodents of Yushe Basin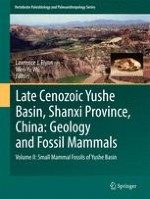 Erstes Kapitel lesen
Autoren: Wen-Yu Wu, Lawrence J. Flynn, Zhu-Ding Qiu
Verlag: Springer Netherlands
Abstract
We review and expand the systematics and biostratigraphic record of murine rodents in Yushe Basin. Several new taxa were established for the Pliocene fossil record of North China following our initial field work of the 1980s. The rodent collection was expanded and developed by complementary field work in 1991, and subsequent study. Herein we present a new Late Miocene genus and review all occurrences of Yushe Murinae. Relatively primitive taxa characterize the Late Miocene of Yushe, and these appear to be related to early lineages that diversified in the Indian Subcontinent. The interval of about 6–5 Ma in Yushe records several murines that occur at Ertemte, Inner Mongolia:
Karnimatoides hipparionus
,
Apodemus orientalis
, and
Micromys chalceus.
Chardinomys
is an additional genus that distinguishes Yushe microfaunas from other Asian assemblages, and the common
C. yusheensis
ranges from latest Miocene through early Pliocene. With
Chardinomys,
the genus
Huaxiamys
characterizes Late Neogene Yushe murine assemblages. The Pliocene of Yushe Basin records successive species of
Chardinomys, Micromys, Huaxiamys
, and
Apodemus
. Derived species of
Chardinomys, Micromys
, and
Apodemus
persist into the Pleistocene.